Patients suffering from whiplash may experience severe neck pain. Whiplash is caused by a rapid back and forth movement in the neck, and is often the result of an auto accident. Dr. Jason Cozart opened PA Chiropractic and Rehab Center in 2002 to provide residents of Waynesburg, PA, and the surrounding areas with holistic healing services. We have years of experience treating auto accident injuries including whiplash through chiropractic care.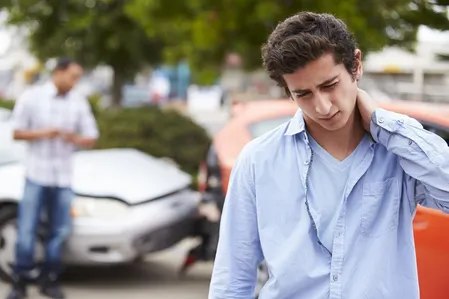 Whiplash Symptoms:
If whiplash is the result of an auto accident injury, it is best to consult a chiropractor right away to get relief and to reduce the risk of long-term complications. Those that have whiplash may experience some of these signs and symptoms within a few days of an auto accident injury:
Neck pain
Stiffness
Impaired range of motion
Headaches starting at the base of the skull
Pain in the shoulders, upper back, and upper arms
Tingling and numbness in the arms
Feeling tired/fatigued
Dizziness
Blurred vision
Tinnitus
Inability to sleep
Irritability
Difficulty concentrating/reading
Difficulty remembering things
Depression or anxiety
If you have any of these symptoms after being in a car accident or otherwise straining your neck, consider contacting our chiropractor as soon as possible.
Health Complications Resulting From Whiplash:
If left untreated, whiplash can result in a chronic pain condition. Those who are most at risk for whiplash complications include:
Those that have had whiplash before
Elderly patients
Those already experiencing neck and back pain
Auto Accident Injury Treatment in Waynesburg, PA
Dr. Jason Cozart and his team at PA Chiropractic and Rehab Center in Waynesburg, PA, will assess your musculoskeletal system before creating a chiropractic care plan tailored to your needs. Through chiropractic care, we will relieve your neck pain and begin healing whiplash at its source. We may suggest corrective exercises and additional treatments to strengthen the muscles and ligaments in your neck, improving your range of motion and reducing your future risk of injury. For more information about whiplash, neck pain, other auto accident injuries, or to schedule an appointment, call us at (724) 852-4222.